You worry about installation during the pandemic? Don't worry!
We have professional engineers to help install and start up machines in many countries such as India, Pakistan, Nigeria, United States of America, Korea and countries in Africa.
Tips:
Information of used machines is just for your reference. If you are interested, or you have other requirements, please contact us.
Thank you.
Especificación
Service Concept
Serve best machine possible
Professional consultancy
Quality first
Prioritize customers' needs
Garantía de calidad
Advanced technology
Creative spirit
Servicio personalizado
Prompt delivery
Our advantages
Concentración en el área de la máquina de pañales
Nuestra fábrica se centra en diferentes líneas de producción de maquinaria sanitaria higiénica industria. Durante más de 20 años, hacemos todo lo posible para concentrarnos en mejorar nuestra tecnología, habilidades y experiencia en esta área. Como resultado, hemos ganado un gran número de honores y premios del gobierno chino y nuestros clientes tanto de los mercados nacionales y extranjeros.
Profesionalidad desde hace décadas
Con el fin de asegurar que nuestra profesionalidad está en el nivel superior de la zona, siempre nos mantenemos al día con los mercados mundiales de productos sanitarios higiénicos, la mejora continua y la innovación de nuestra tecnología a las últimas tendencias.somos capaces de ofrecerle líneas de producción fiables y solución profesional y servicios.
Personalización para necesidades especiales
Con el más alto nivel de tecnología en el área, nos gustaría mucho atender el consejo de los clientes cuidadosamente, y ofrecerles un diseño adecuado e individual para cumplir sus requisitos y satisfacerles.
Precisión y control de calidad
As a professional and experienced factory, we take "Quality First" as our working guideline, all majority parts of our production lines are purchased and processed according to the highest standards of the industry.
Hemos importado máquinas CNC de alta calidad para garantizar la precisión y el uso duradero de las líneas de producción que fabricamos.
Todas las máquinas vendidas serán instaladas y montadas por técnicos experimentados.
Compromiso
Nos comprometemos a que las líneas de producción que producimos tendrán un rendimiento excelente y estable, esperamos sinceramente que nuestros esfuerzos puedan ayudarle a tener éxito. Estamos seguros de que nuestras excelentes máquinas pueden satisfacer su demanda y darle una tremenda sensación de satisfacción.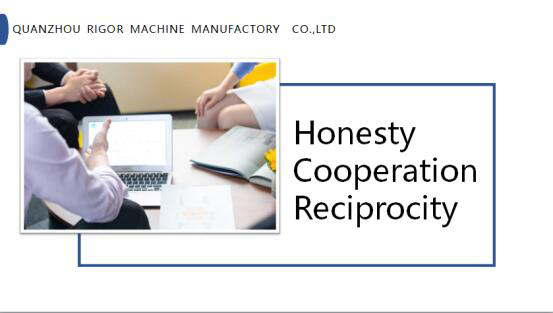 About Rigor:
QUANZHOU RIGOR MACHINE MANUFACTORY CO.,LTD is founded by a group of professional machinery engineers who have creative minds and rich experience, it is a forward-looking and cutting-edge factory which focuses on various hygiene product machines that are needed for new century.
The factory is located in Quanzhou, Fujian, China. As a professional and creative factory which has experience for more than 15 years, we are priviliged to connect with customers from many countries about equipments and have business with them.
Now, QUANZHOU RIGOR MACHINE MANUFACTORY  CO.,LTD is an experienced and professional machinery manufacturer. We have been focusing on the research and development of different kinds of baby diaper machine, adult diaper machine, sanitary pad machine, underpad machine and wet wipes machine.
We have always believed in serving best machines possible for customers. Our newest design of machine and customized project has satisfied a great number of customers. It is our goal for all our machines to achieve the highest standard of quality and we believe we will never let customers who believe in our products and service down.
Our mission: to accurately producing hygiene product machine using our advanced technology, professional knowledge, rich experience and creative spirit.