Machine à couches jetables pour adultes fournie par l'usine
| | |
| --- | --- |
| Vitesse conçue | 250pcs/min |
| Puissance : | 3 phases, 5 fils (380v, 50HZ) |
| Taille de la machine | 35.0m× 8.5m× 4.2m(L× W× H ) |
| Poids de la machine | Environ 70T (ligne de production complète) |
Unique benefits of owning Rigor's Adult Diaper Machine:
Nous nous soucions de ce qui vous importe le plus dans l'achat d'une machine.
Nous avons toujours cru qu'il fallait servir les meilleures machines possibles aux clients.
Our mission is to help each client stay at the top of adult diaper supplier.
 
Performances
1. Volume (millions de pièces/an)
40-70 million pieces
2. Vitesse conçue
250pcs/min
3. Vitesse stable
150-200 pcs /min
4.  Passing rate
≥ 97% (Ne comprend pas l'applicateur de colle, Auto Splicing)
 
 Technical Parameter:
1. Alimentation électrique
3 phase, 5 wires  (380v, 50HZ)
2. Puissance installée
400KW
3. Puissance utilisée
350 KW
4. Fil électrique
3×120mm2+1×50mm2+1×25mm2
5. Alimentation en air comprimé
0.6~0.8Mpa
6. Absorption d'air comprimé
5000 Nl/min
7. Taille de la machine
35.0m× 8.5m× 4.2m(L× W× H )
8. Taille de travail
40m× 12m ´5.0m  (L× W× H )
9. Poids de la machine
About 70T (whole production line)
10. Machine Color:
 Blue ( confirm with customer)
11. Machine Direction:
From Right to Left   (can be designed as customer's demand)
12. Containers:
6´ 40 HQ containers
13. Finish Product Size:

XL、L、M、S

( Based on Customer's requirement)

  Max
 Min
Longueur
 1000mm
450mm
Largeur
 880mm
350mm
14. Product Structure:
Basic structure:   Fluff core, SAP, top sheet, backsheet, frontal tape, side tape, leg elastic, ADL
Optional structure: Double core, waistband, stand cuff, ADL, Fasten belt(T-tape).
Brief Introduction
☆Full servo design, shaft-less transmission, modular structure, easy operation and maintenance, workable upgrade for further reasonable needing.
☆Interface adopted specialized industrial computer, humanized design and easy control, real time data collection and alarm warning.
☆Full servo automatic control
☆Main raw materials auto unwinding by servo motor with buffer tension balance for zero time splicing, one button touch for shifting motor running direction.
☆Web guiding system adopted for main raw materials to increase the acceptance and performances.
☆Relative defects auto rejecting.
☆Rear driving is transferred by time belts and time wheels, universal couples are adopted for main parts.
☆Integrity vacuum conveyor is more guarantee and easy adjustable for belts and products positions, One side unload design for easy part -hanging.
☆All phases auto tracking
☆Main mechanical parts made by CNC, main supported parts from world famous brands.
☆Auto adjusting temperature as to set parameters for those electrical thermo parts.
☆All short cutting are scratch mode, and relative rollers have surface treatment to avoid glue conglutination.
☆Many other optional parts can be considered as to actual requests.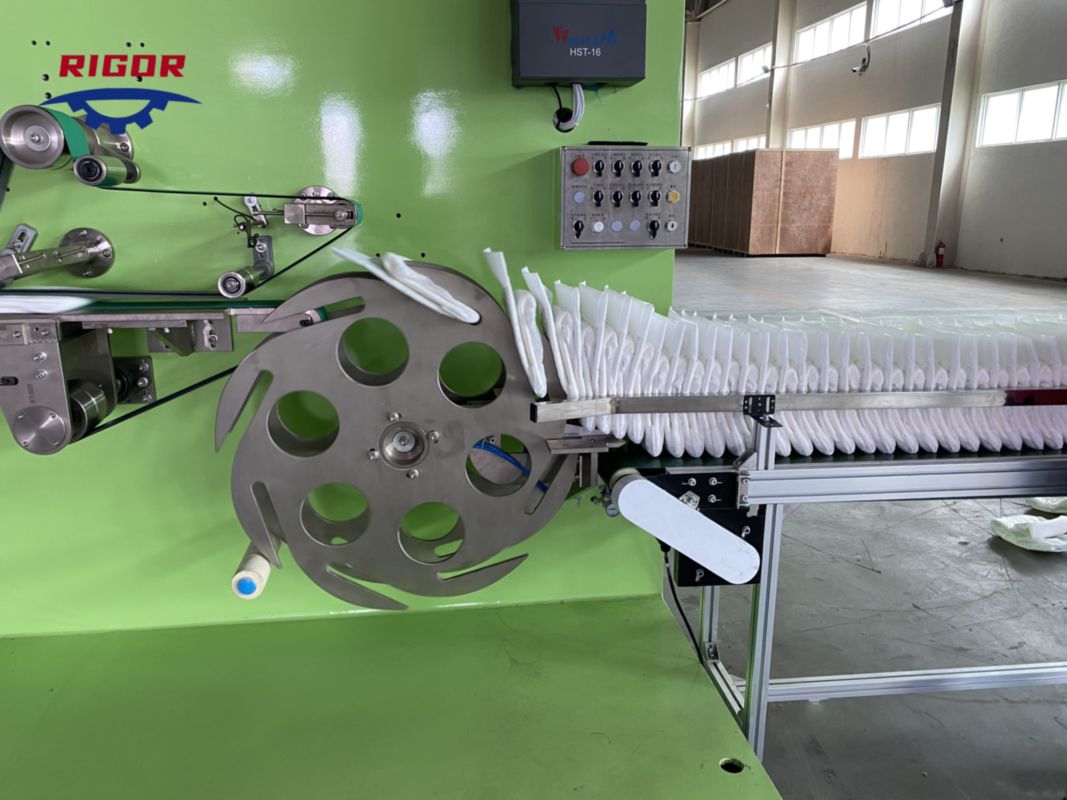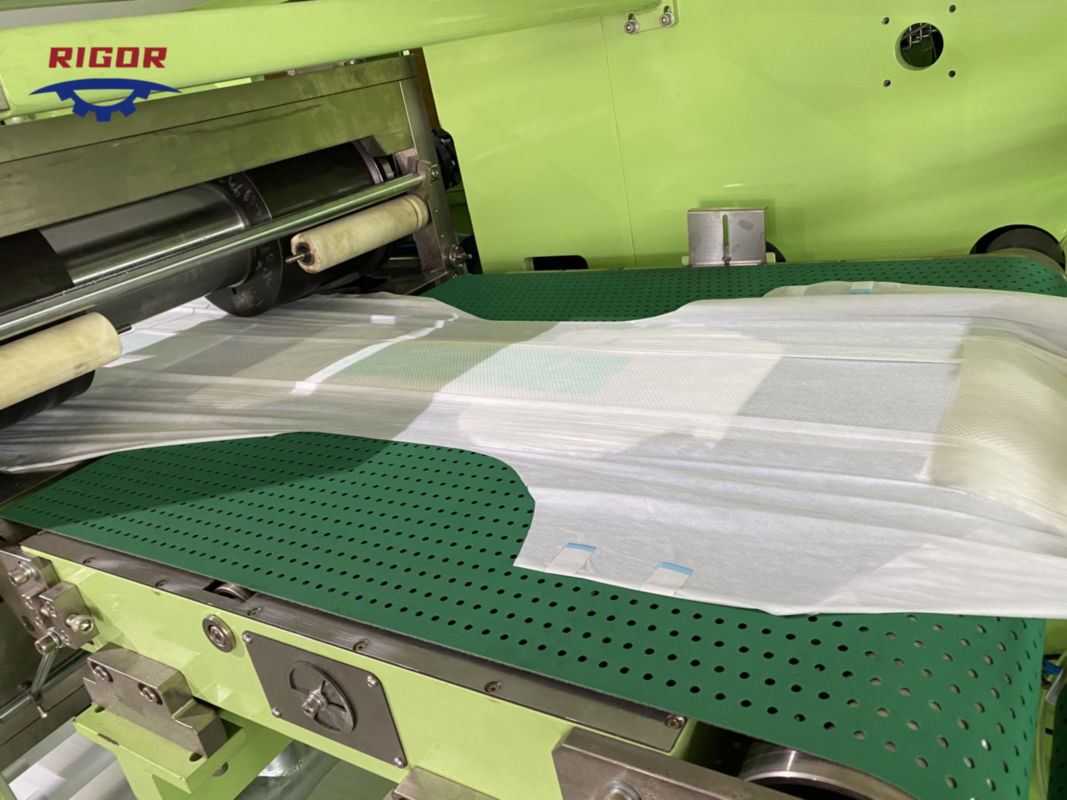 Nos avantages
1.Concentration on the area of diaper machine
Our factory focuses on different hygienic sanitary machinery production lines industry.
For more than 15 years, we try our best to concentrate on improving our technology, skills and experience in this area.
As a result, we gained a great number of honours and awards from Chinese government and our customers both from domestic and overseas markets.
2.Professionality for decades
In order to make sure our professionality is in the top level of the area, we always keep in step with the global hygienic sanitary products markets, continuously improving and innovating our technology to the lastest trends.
We are able to offer you reliable production lines and professional solution and services.
3.Customization for special needs
With the highest level of technology in the area, we would very much like to attend to the advice of customers carefully.
W will offer you suitable and individual design to meet your requirements and satisfy you.
4.Precision and Quality Control
En tant qu'usine professionnelle et expérimentée, nous prenons "La qualité d'abord" comme ligne directrice de travail, toutes les pièces majoritaires de nos lignes de production sont achetées et traitées selon les normes les plus élevées de l'industrie.
Nous avons importé des machines CNC de première qualité pour garantir la précision et la longévité des lignes de production que nous produisons.
Toutes les machines vendues seront installées et montées par des techniciens expérimentés.
5.Commitment
We commit that the production lines we produced will perform excellently and stably.
We sincerely hope that our efforts can help you to be successful.
We are sure that our excellent machines can meet your demand and give you a tremendous feeling of fulfillment.