Fabrika Kaynağı Tek Kullanımlık Yetişkin Bezi Makinesi
| | |
| --- | --- |
| Tasarlanmış Hız | 250 adet/dakika |
| Güç: | 3 faz, 5 kablo (380v, 50HZ) |
| Makine boyutu | 35,0m × 8,5m × 4,2m (U × G × Y) |
| Makine ağırlığı | Yaklaşık 70T (tüm üretim hattı) |
Unique benefits of owning Rigor's Adult Diaper Machine:
Bir makine satın alırken en çok neye önem verdiğinizi önemsiyoruz.
Her zaman müşterilerimiz için mümkün olan en iyi makineleri sunmaya inandık.
Our mission is to help each client stay at the top of adult diaper supplier.
 
Performances
1. Hacim (milyon adet/yıl)
40-70 million pieces
2. Tasarlanmış Hız
250 adet/dakika
3. Kararlı Hız
150-200 pcs /min
4.  Passing rate
≥ 97% (Tutkal aplikatörü dahil değildir, Otomatik Ekleme)
 
 Technical Parameter:
1. Güç Kaynağı
3 phase, 5 wires  (380v, 50HZ)
2. Kurulu Güç
400KW
3. Kullanılan Güç
350 KW
4. Elektrik teli
3×120mm2+1×50mm2+1×25mm2
5. Basınçlı Hava Kaynağı
0.6~0.8Mpa
6. Basınçlı Hava Emme
5000 Nl/dk
7. Makine Boyutu
35,0m × 8,5m × 4,2m (U × G × Y)
8. Çalışma Boyutu
40m× 12m ´5.0m  (L× W× H )
9. Makine Ağırlığı
About 70T (whole production line)
10. Machine Color:
 Blue ( confirm with customer)
11. Machine Direction:
From Right to Left   (can be designed as customer's demand)
12. Containers:
6´ 40 HQ containers
13. Finish Product Size:

XL、L、M、S

( Based on Customer's requirement)

  Max
 Min
Uzunluk
 1000mm
450mm
Width
 880mm
350mm
14. Product Structure:
Basic structure:   Fluff core, SAP, top sheet, backsheet, frontal tape, side tape, leg elastic, ADL
Optional structure: Double core, waistband, stand cuff, ADL, Fasten belt(T-tape).
Brief Introduction
☆Full servo design, shaft-less transmission, modular structure, easy operation and maintenance, workable upgrade for further reasonable needing.
☆Interface adopted specialized industrial computer, humanized design and easy control, real time data collection and alarm warning.
☆Full servo automatic control
☆Main raw materials auto unwinding by servo motor with buffer tension balance for zero time splicing, one button touch for shifting motor running direction.
☆Web guiding system adopted for main raw materials to increase the acceptance and performances.
☆Relative defects auto rejecting.
☆Rear driving is transferred by time belts and time wheels, universal couples are adopted for main parts.
☆Integrity vacuum conveyor is more guarantee and easy adjustable for belts and products positions, One side unload design for easy part -hanging.
☆All phases auto tracking
☆Main mechanical parts made by CNC, main supported parts from world famous brands.
☆Auto adjusting temperature as to set parameters for those electrical thermo parts.
☆All short cutting are scratch mode, and relative rollers have surface treatment to avoid glue conglutination.
☆Many other optional parts can be considered as to actual requests.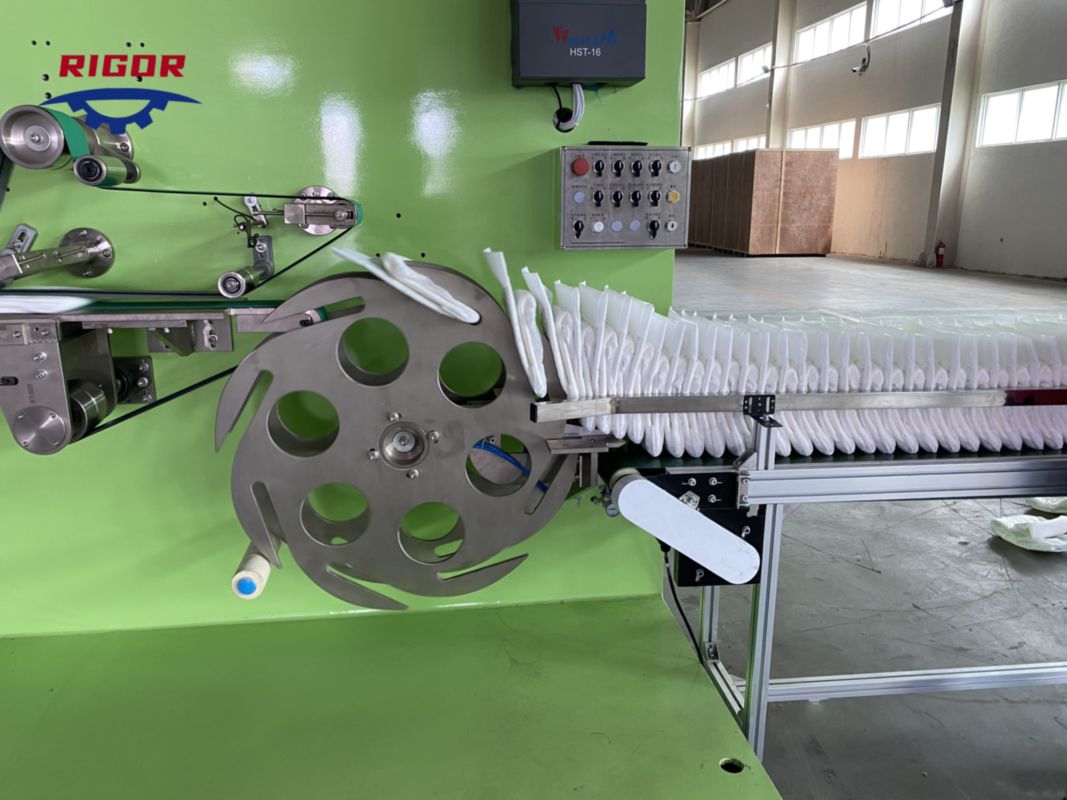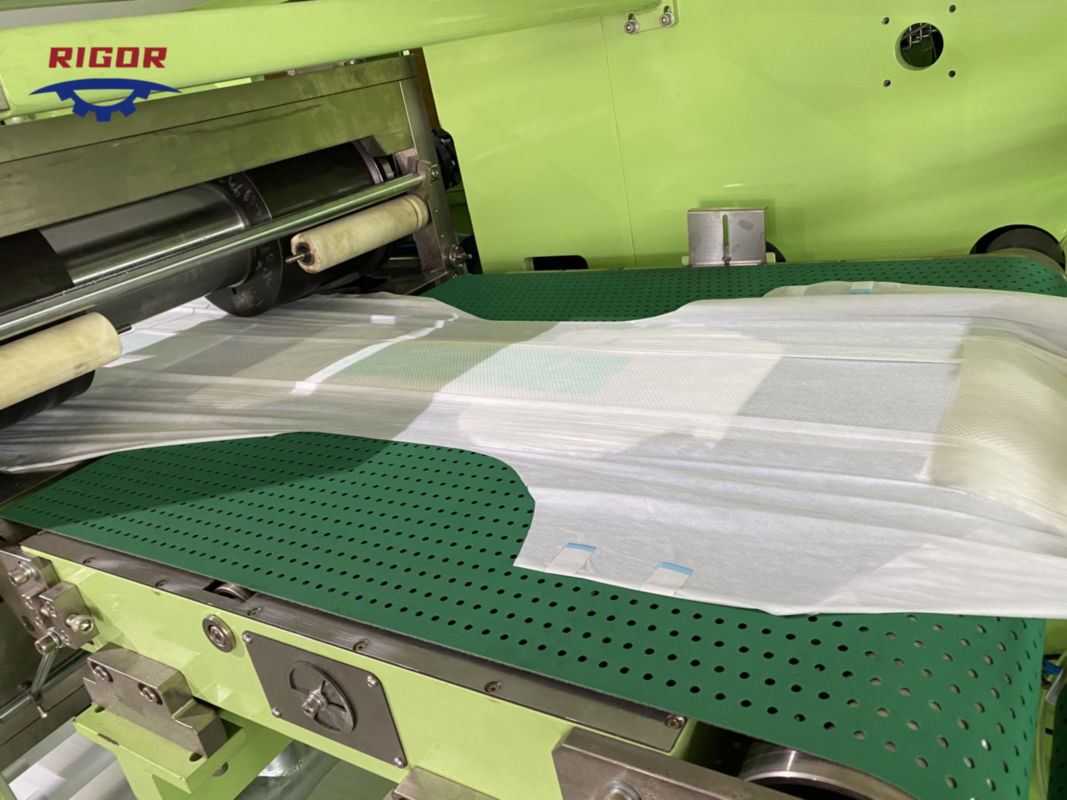 Avantajlarımız
1.Concentration on the area of diaper machine
Our factory focuses on different hygienic sanitary machinery production lines industry.
For more than 15 years, we try our best to concentrate on improving our technology, skills and experience in this area.
As a result, we gained a great number of honours and awards from Chinese government and our customers both from domestic and overseas markets.
2.Professionality for decades
In order to make sure our professionality is in the top level of the area, we always keep in step with the global hygienic sanitary products markets, continuously improving and innovating our technology to the lastest trends.
We are able to offer you reliable production lines and professional solution and services.
3.Customization for special needs
With the highest level of technology in the area, we would very much like to attend to the advice of customers carefully.
W will offer you suitable and individual design to meet your requirements and satisfy you.
4.Precision and Quality Control
Profesyonel ve deneyimli bir fabrika olarak, çalışma kılavuzumuz olarak "Önce Kalite" yi alıyoruz, üretim hatlarımızın tüm çoğunluk parçaları satın alınmakta ve endüstrinin en yüksek standartlarına göre işlenmektedir.
Ürettiğimiz üretim hatlarının doğruluğundan ve uzun ömürlü kullanımından emin olmak için üst sınıf CNC Makineleri ithal ettik.
Satılan tüm makineler deneyimli teknisyenler tarafından kurulacak ve monte edilecektir.
5.Commitment
We commit that the production lines we produced will perform excellently and stably.
We sincerely hope that our efforts can help you to be successful.
We are sure that our excellent machines can meet your demand and give you a tremendous feeling of fulfillment.