Secondhand Cheap Price Sanitary Napkin Making Machine
| | |
| --- | --- |
| Design speed | 600 pieces/min |
| Power Supply | 380V/50HZ |
| Origin | China |
| Machine Weight | About 35 tons |
1.Normal fluffy type product: top sheet non-woven(or PE perforated film), elastic ribbon of Stereo-Protection ,top tissue, absorbent paper(cotton core with SAP), down tissue, PE film, back release paper, wing release paper, packaging film, easy tape.
2.Ultra thin:double layer anti-leakage non-woven, top sheet(non woven or PE perforated film),absorbent core(air laid, SAP paper), down tissue, back sheet(PE film), wing release paper,packaging film, easy tape.
You worry about installation during the pandemic? Don't worry!
We have professional engineers to help install and start up machines in many countries such as India, Pakistan, Nigeria, United States of America, Korea and countries in Africa.
Tips:
Information of used machines is just for your reference. If you are interested, or you have other requirements, please contact us.
Thank you.
Specification
Reasonable and firm square steel tube frame; 30mm plate processed six sides into 25mm thickness plate. Fixing frame by 60mmX60mmX4mm square steel tube. Fixing plates by screws. Foundation frame 120mmX120mmX8mm, foundation plate thickness 20mm. Rear drive box widened to 1100mm for easy maintenance.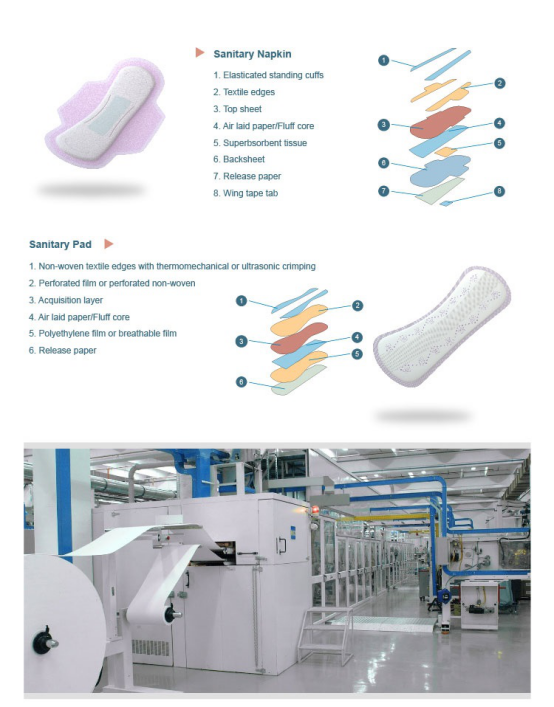 About Rigor:
QUANZHOU RIGOR MACHINE MANUFACTORY CO.,LTD is founded by a group of professional machinery engineers who have creative minds and rich experience, it is a forward-looking and cutting-edge factory which focuses on various hygiene product machines that are needed for new century.
The factory is located in Quanzhou, Fujian, China. As a professional and creative factory which has experience for more than 15 years, we are privileged to connect with customers from many countries about equipment and have business with them.
Now, QUANZHOU RIGOR MACHINE MANUFACTORY  CO.,LTD is an experienced and professional machinery manufacturer. We have been focusing on the research and development of different kinds of baby diaper machine, adult diaper machine, sanitary pad machine, underpad machine and wet wipes machine.
We have always believed in serving best machines possible for customers. Our newest design of machine and customized project has satisfied a great number of customers. It is our goal for all our machines to achieve the highest standard of quality and we believe we will never let customers who believe in our products and service down.
Our mission: to accurately producing hygiene product machine using our advanced technology, professional knowledge, rich experience and creative spirit.