What a wet wipes machine
A wet wipes machine is a type of machine for the production of wet wipes. Wet wipes are moistened disposable cloths used for cleaning or personal hygiene. The fabric is then cut into individual wipes, packaged, and distributed for various uses such as baby wipes, face wipes, or disinfectant wipes. Wet wipes machines are typically large, industrial machines used in the manufacturing of wet wipes.
What a wet wipes machine used for
Full servo system, high-precision tension control, accurate wet wipes conveying and cutting. It can complete the entire production process from wet wipes conveying, slitting, folding, cutting, packaging.
wet wipes machine wholesale price
The price of wet wipe machine needs to distinguish between different types of machines, and also needs to consider other factors such as transportation costs, generally we will quote FOB price. Get wet wipe machines list now.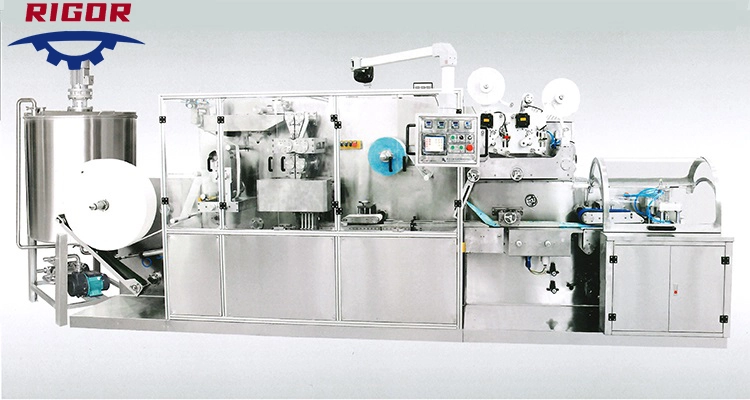 How to operate the wipes production line?
If you don't know how to operate, you can contact us for free online support. We also offer foreign machine installation and maintenance services. If you want to quickly learn how to operate and troubleshoot the wipes machine, please ask us for detailed operation videos and operation manuals.
Specification of Lid Applicator Machine:
Control driving system: HD touch screen, multi-axle motion control, accurate rotating of the servo.
Automatic grasp mechanism: the manipulator is maintenance-free and grasps the products precisely with low noise.
Reduction box of the manipulator: high precision reduction box, high rigidity, low noise, and maintenance-free.
Automatic lids feeding mechanism: fetching and putting a device with servo drive, accurate positioning.
Automatic labeling device: online synchronous labeling.
Vision positioning system: color HD camera, precise coordinate; the transparent sticker is applicable.
Safety guarantee system: fixed, movable, and closed preventive device, confirming to ISO 14120:200221.